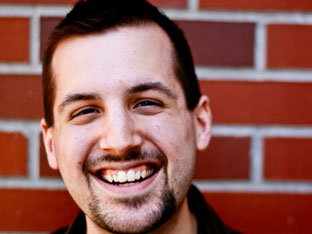 Tyler Sticka is Backabit's design guru. By day, he's a Lead Experience Designer at WE Studio D, a global digital strategies practice, where he leads a team of designers that create nifty things for a bunch of nifty companies. He periodically teaches web design classes at the Art Institute of Portland, and is a frequent speaker at several Northwest design events.
Tyler's interest in video games started with Super Mario Bros. on the NES, but kicked into high gear when his parents gave him and his brother a Sega Genesis for Christmas, bundled with Sonic the Hedgehog 2. He drew pictures of Sonic constantly (often from the Archie comic books, as one would expect a geek to do), and by high school was sketching elaborate drawings and diagrams of his own video game ideas.
While taking a Flash programming class in college, Tyler created a game called Ramps as a class project. He published the game to several online forums and eventually to his own site, where it gained nearly a million players, won a WebVisionary Award for "Best Game" and became one of Download Squad's Featured Time Wasters (to bring things full circle, they later gave Ramps for iPhone a positive review).
Try as he might, Tyler's passion was in design more than development, and he couldn't make a worthwhile successor to Ramps on his own. After a series of false starts, a spontaneous email sent to a few developer friends yielded an enthusiastic response from Tim. The rest, as they say, is history!