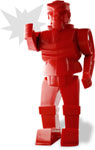 Tim and I will give a talk on the making of Ramps on Thursday, May 26 at the WebVisions conference.
The fast-paced, fifteen-minute session is just one of a zillion awesome talks at this year's two-day event (three if you've signed up for a workshop). Register before April 5 to nab the early bird rate!
The full session description:
GO! How Two Guys Made a Successful iPhone Game and Lived to Tell the Tale

Time: Thu May 26, 11:45 am – 12:00 pm

At over 300,000 applications and growing, the iOS App Store is a thriving platform. But with great size comes great competition, especially in the coveted "Games" category. In this session, Backabit co-founders Tyler Sticka and Tim Sears explain how they took their first iOS game, Ramps, from student project to app store success. You'll learn how they built the game without disrupting their full-time jobs, how they facilitated a successful design/development collaboration, what they'd do differently their second time around and lessons learned along the way.

Ramps (based on Tyler's award-winning Flash game of the same name), was selected by Apple as an "iPhone Game of the Week," ranking highly in the US App Store Top 10. It's been played over a million times since its debut. Ramps has received numerous positive reviews from publications like IGN, Slide to Play, Appmodo and Download Squad. Apple called the game "a simple and stylish physics puzzler you won't want to put down."
For more info, visit the rockem' sockem' WebVisions site. We hope to see you there!