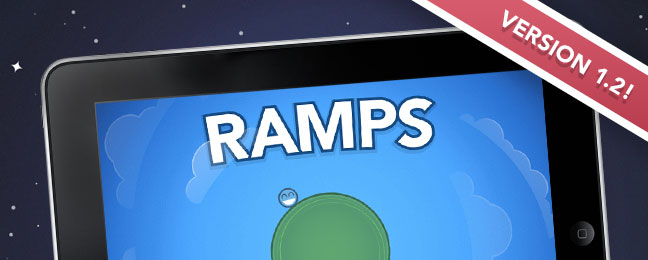 The number one question we get from fans of Ramps:
"When are you going to make an iPad version?"
Those of you who follow us on Twitter may have guessed that Tim and I have been tinkering with Ramps for iPad ever since Ramps 1.1 debuted back in April. We've taken that time to insure that the iPad experience isn't a mere port, but a definitive version of the game.
Another question we get asked a lot is whether or not Ramps for iPad will be a separate app, or a universal update. We wrestled with this distinction for quite some time, with both options having pros and cons, but we think you'll be happy with our decision.
Ramps 1.2 is a free update for existing players, available now on the iOS App Store!
What's new in this version?
iPad support! Woo-hoo!
40 marvelous new HD levels exclusively for the iPad… 240 levels in all now!
An epic new iPad title screen chock-full of delightful surprises to uncover!
Full iCloud support with game save and score auto-sync!
New Game Center Achievements! Who doesn't like bragging rights?
Major stability and design improvements. Shiny new buttons!
If you dig this update, consider spreading the holiday cheer by rating the app or gifting it to a friend!
Tim and I would like to extend a sincere and heartfelt thank-you to those of you who have played and supported our game. We hope you have a wonderful holiday season, we'll see you in 2012!