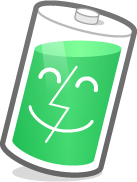 Tyler and I recently participated in an episode of the Friends Electric Podcast that was posted earlier today. If you're interested in hearing more about how we created Ramps, the story of how Backabit came to be, and some tidbits regarding what we've got in-store for the upcoming release of Ramps HD, this is an interview you won't want to miss!
We're also excited today as we've released an update to Ramps to the App Store to address several bugs we discovered related to version 1.1. In addition, Ramps 1.1.1 now supports multi-touch! Yep, we should have supported multi-touch from the very beginning, but we didn't want to release this capability until we got it just right. Now, you can use as many fingers as you can fit on your iPhone or iPod Touch (the answer is five) to move your ramps around and send Superball flying into the air!
Hope everyone is having a fantastic Thursday!