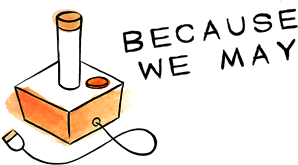 Now through June 1, you can pick up Ramps for your iPhone or iPad and keep an extra dollar in your pocket, simply Because We May. We're celebrating the freedom Apple gives us to set our own prices, and we're not alone. Dozens of indie game makers (including some heroes of ours) are doing the same.
Tim and I hope you take advantage of this awesome sale by purchasing some groovy indie games for iOS, Mac, Steam, Android and more.
And seriously, if you haven't played Ramps yet, what are you waiting for?